Everybody likes to travel hassle free and especially when it comes to arriving at an important event like concerts. And Limos are proven to be one of the best transportation methods when it comes to travelling somewhere trouble-free. You may not know how much traffic you face, your car can break down, or maybe an issue of fuel or flat tire can come up and that can take all of your time and you may end up missing the concert. The gist of the matter is that hiring a limo service makes your travel to your concert venue foolproof. This is the reason that you should be using the Limo service for Miami concert by I Love Miami Limo
Variety of Limos That Suits Your Style:
Below are some of the best limos that will be perfect for your every transport need pertaining to arriving at Miami Concert:
Chrysler Limo: This Limo is a perfect blend of style and lavishness with its vanity mirrors, reading lamps and a variety of other amenities. This luxurious 2017 Chrysler 300 can be your best bet for Limo service for Miami Concert.
Mini and Party Busses: Have a lot of people that want to go to a concert together? No problem, our luxurious fleet of Mini and Party busses are just for this specific purpose.
Escalade Limousine: The Limo is perfect for outings, parties and events like the Miami concert. With its exotic exterior, you will definitely leave an impression.
Pink Limo: Our Pink Limo will give a sense of wildness and liveliness to you. It will make sure you perfectly blend in with all the stylish vehicles on the avenue.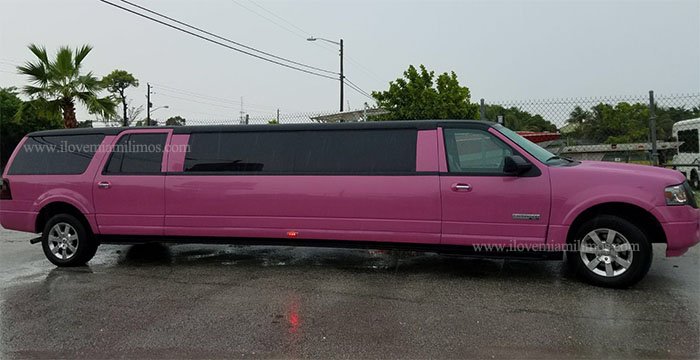 Benefits of Getting the Limo Service for Miami Concert from I Love Miami Limos
Limo service for Miami Concert by I Love Miami Limos comes with a lot of perks, some of them are mentioned below:
No issues of Traffic:
The biggest concern on the day of a concert is of traffic. You will not be alone going to that concert and due to the rush of people going in the same direction, roads can get blocked and create a lot of trouble for you in reaching to the avenue. But with a professional Limo service for Miami Concert, you will get there without facing much traffic. This is because the professional chauffeurs know all the routes leading to different avenues like American Airlines Arena or Hard Rock Stadium etc. And because of that, they will take the route that is not only the shortest but also free from traffic.
No Hassle of Parking
Now even if you wait for a huge chunk of time and somehow reach the avenue where the concert is held, the second major issue that you will face is of parking. Because no matter how early you get there, you will always have trouble finding a spot for parking. But with I Love Miami Limos Limo service for the Miami concert, you will not have to face the hassle of parking. The professional chauffeur will drop you at your desired location and you will not have to worry about finding a parking spot while you should be enjoying the concert.
Ride like a Boss
Besides the necessities like avoiding traffic or hassle of parking, you need something that matches your whole style. It is apparent that you will be well dressed for the concert and to give an edge to your whole personality; you should get a I Love Miami Limos Limo service for Miami concert. This way, you will get to enjoy the luxurious interior and fantastic amenities of the Limo. Besides, all eyes at the concert will turn your way if you show up in a limo at the venue.
Ride with Safety
The most important factor that you need to keep in mind is your safety at the times of concerts. This is because everybody at that time will be in a rush to reach the avenue of the concert as soon as they can and that highly increases the probability of an accident. But don't fret over it, you can still reach the avenue safe and sound thanks to the Limo service for Miami concert by I Love Miami Limos. The expert chauffeurs will make sure that you get to the avenue without facing any trouble and besides that, most of the limo services are insured so this is an added bonus for the passenger.
Get to Concert on Time
Lastly, you need to get to the concert on time because you have paid for the ticket for the whole concert so why miss the fun of the beginning? But if you decide to go all by yourself, you can face many problems like a flat tire, fuel issues, car breaking down, and a lot of traffic to name a few. This is where the Limo service for Miami concert by I Love Miami Limos comes in. With a professional limo, you will avoid all of these issues as the limos are kept up to date with proper maintenance including tire and fuel check. This ensures the proper travel of the passenger.
Take Your Travel to the next level Through I Love Miami Limos Limo Service for Miami Concert
After looking at the aforementioned points it is clear that you have made the right decision of getting a limousine service to the Miami concert. And what better limo service to get there than the one that knows everything about Miami concerts including their venues, timings and shortest possible routes etc. I Love Miami Limos is happy to take you to your concerts while making sure you get the best service exclusively devoted to Miami concerts.
Our professional chauffeurs are excited to meet you and help you get to the avenues on time while following all safety measures. So why wait when you can grab the opportunity by booking a limo service for Miami concert now. Hurry up, call us and book one for yourself and your friends before we run out of Limousine.
Concert Schedule:
American Airlines Arena – Miami
July 28th Shawn Mendes
August 3rd Jorge E Mateus
August 4th Kesha and Macklemore
August 5th Janet Jackson
August 9th J Cole
August 17th Shakira
August 18th Shakira
August 25th Alejandro Fernandez y Los Tigres Del Norte
September 21st Drake with Migos
October 19th Nicki Minaj with Future
BB&T – Sunrise
August 15th Shakira
August 17th Def Leppard & Journey
October 5th Phil Collins
November 4th Twenty One Pilots
Hard Rock Stadium
August 18th Taylor Swift
August 31st JAY-Z and Beyonce
Coral Sky – West Palm Beach
July 27th Dave Matthews Band
July 28th Dave Matthews Band
August 4th Miranda Lambert & Little Big Town
August 7th Pentatonix
August 9th Imagine Dragons
September 1st Charlie Puth & Hailee Steinfeld
September 29th Lady Antebellum
October 13th Kid Rock