If this is your first time of renting a party bus Fort Lauderdale, you might be worried about how to find a good Fort Lauderdale party bus company. We, at ILovemiamilimos.com are your best choice. There are many things to consider when choosing a fort lauderdale party bus, here at Ilovemiamilimos.com we can help you picking out the party bus that is right for you.
Related pages:
But first, let's get started with…
What is in a party bus?
A party bus or limo bus is originally a conventional bus or coach which is re-designed and used to carry a group of people for recreational purpose. Depend on how big of a party bus, the owner might add a sound system, light show, Dance floor, dance pole, wet bar, a fog machine and of course a bathroom.
How many passengers does a party bus hold?
A party bus or limo bus can carry a group of 10 to 55 passengers. At I Love Miami Limos, we can help you plan the perfect itinerary for your upcoming event to ensure the greatest experience with your Fort Lauderdale party bus rental. While there are many choices for party bus, we offer 3 sizes of party buses, inluding 25-passenger party bus, 40 passengers party bus, and 50 (up to 55) passenger party bus. Depend on the size of the party buses, the interiors might be different.
For instance, the 20-passenger party bus which can carry a group of 10 -25 passengers, this smallest bus includes a sound and video system, luxury seating, strobe and LED light optional, a dance pole and floor. Due to the limit of space, this small party bus does not include a bathroom. If your group is about of 26-45 people, our 40 passengers party bus will be fit comfortably. The 40-passenger party bus does not only include a full interior from the 20 passengers party bus, but also include a wet bar, light show, fog machine and a bathroom which will give you and your group a feeling of relaxing just like you're in a bar. Or even if you want more space, take a look at our 50 passengers party bus.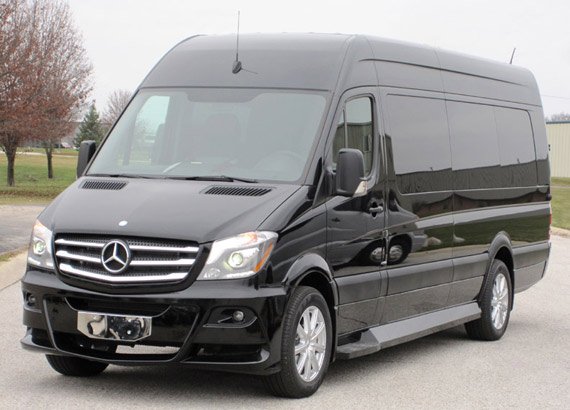 MERCEDES SPRINTER LIMO PARTY BUS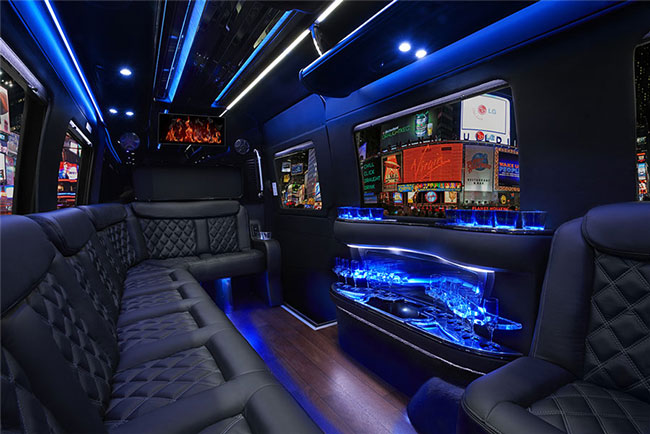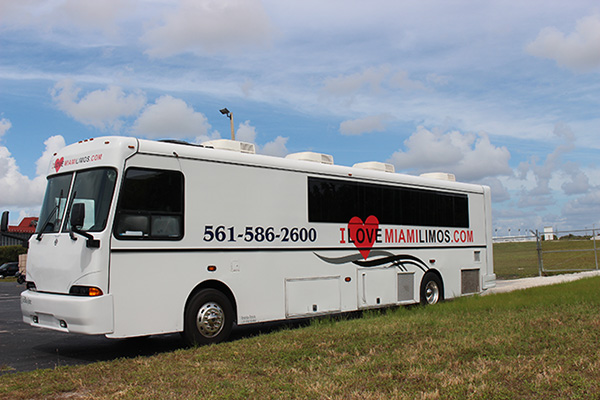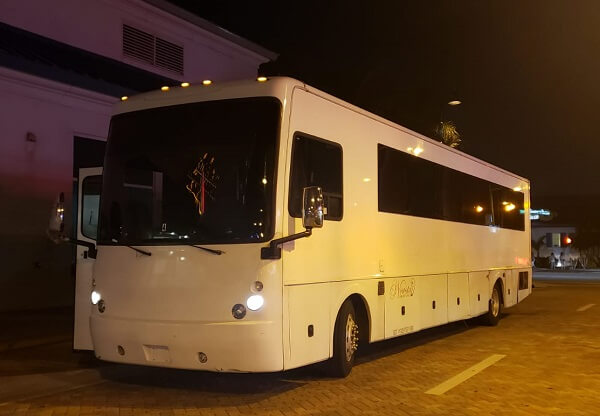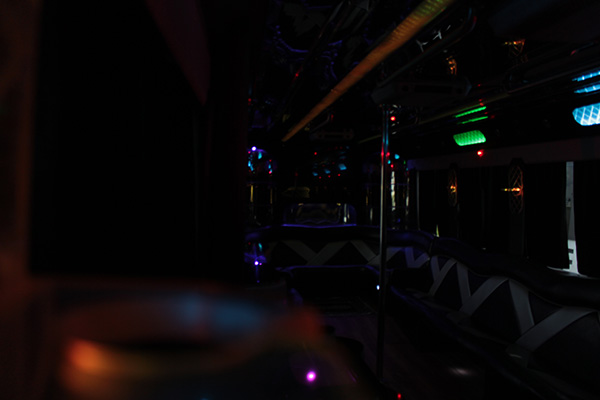 How to choose a party bus Fort Lauderdale?
Make sure that your party bus Fort Lauderdale is the correct size, it is important to try to get a proper head count so you can choose the Party Bus that is right for you and your guests
Make sure you reserve your Fort Lauderdale party bus rental in advance because we are South Florida's low cost leader with our lowest price guarantee and we do sell out quickly
What events should you rent the party bus for?
Party buses are a great way to celebrate birthdays, anniversaries, family reunions, corporate events, real estate tours, bachelor, bachelorette parties, weddings, proms, bar crawls, or just a great gathering for all your friends. A Fort Lauderdale Party Bus offers the ability to have a mobile party with your guests where you can offer drinks and the ability to visit all the hotspots in South Florida without the inconvenience of splitting up your group for your special event. Your party bus rental should offer the best in style and accommodations at a great price. We are sure that with our expert reservationists helping plan your event combined with our state of the art fleet and fantastic price your party bus Fort Lauderdale will be an unforgettable experience for you and your group.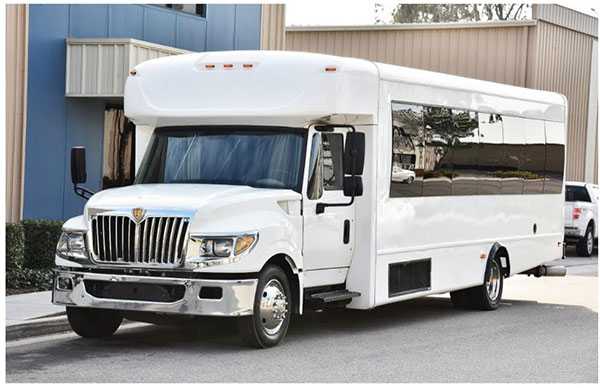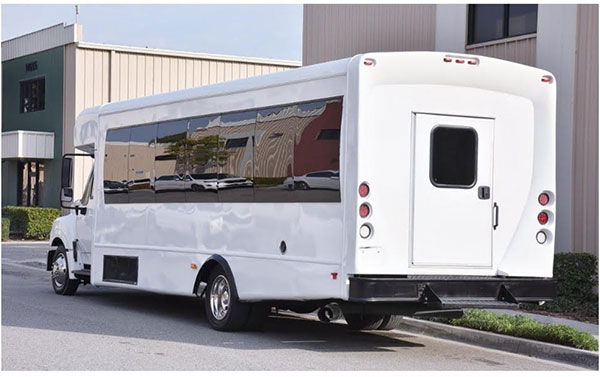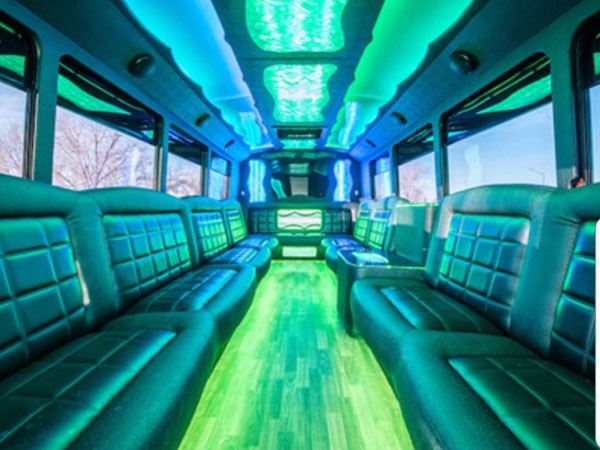 Does a driver need a license to drive a party bus?
According to the law of Florida, in order to drive a party bus in Fort Lauderdale, Miami and South Florida, drivers need a CDL License Class B. Therefore, next time before renting a party bus, make sure the limo company provide you a Class B- License driver.
At I Love Miami Limos, our drivers do not only have a fully license, but also full of experience. Imagine, carrying a group of 40-50 passngers on a big party bus on the busy streets in South Florida is not an easy job that not many drivers can do. Memorizing the streets and ability to solve the difficult situations quickly will save customers'time and safety.
At I love Miami Limos, We care about your joyness as well as safety.
How old do you need to be to rent a party bus?
According to the law of Florida, you need to be at least 21 to rent a party bus Fort lauderdale with Alcohol. Children under 16 will need parent to go with. Please make sure to ask your limo party bus company about the state policy if you book a party bus in other states
How much to rent a Fort Lauderdale party bus?
depend on the size of the group, we will help you to choose the right size of the bus and give you the right quote. However, please check this page of  how much to rent a party bus for the reference price of our party bus fort lauderdale.
How much do you tip for a party bus driver?
Normally, the party bus company will give you a quote including driver tip. So in most of the cases, you don't need to tip the party bus driver. However, some limo companies just give you a price without the driver tip and you need to ask them. But We do suggest to tip the driver about 15%-20% of the total spent.
Lastly, you will not need to pay for tax in South Florida when renting a limo or party bus because there is no tax of transportation in South Florida.
How to book a party bus fort lauderdale?
It's very easy, you just need to follow the steps on this page how to book a limo or you can call our office to get your special discount for the week and don't forget to watch our party bus videos to see how they look.
Party Bus Videos
(See more videos and photos at Gallery page)