Party bus rental and corporate function may not have an obvious common thread. Being a employer of choice among talented members of the workforce requires leadership that thinks beyond common corporate culture . Knowing employees respond better to appreciation and acts of validation, often times even more, than increased wages and other forms of motivation, requires exceptional leadership that goes beyond cookie cutter practices. It take innovators that push themselves to study, analyse, originate and fearlessly approach their team on a multitude of levels with a deep understanding of humanity and an inspired action plan. I love miami limos' party bus rental should be an essential part of your arsenal as an exceptional corporate leader. It is an unexpected tool that will help you reach your company initiatives financially and culturally using the intangible elements that can make your team perform at their highest level and with contentment. Something as small as a party bus rental from I love Miami Limos, when well thought out and executed properly, can be an invigorating stimulating experience that leads to synergy and results.
In the corporate arena it is not often that leadership gets an opportunity to stop for a moment and celebrate their team's accomplishments. As a leader it is important to give tribute for all the hard work and in turn all the revenue produced by your employees. There is a large percentage of employees who feel more fulfilled in their job when the contributions are recognized and celebrated. Some studies rank it higher than an increase in pay or job title. People need a pat on the back and to be told their efforts are essential. As leaders how can we give our employees a sense of validation for performing their day to day operational responsibilities in a way that is instrumental to the success of the team? Validating their efforts makes your team want to continually increase their performance for the gratitude shown in their singular direction. A feeling of obligation to perform for their coworker and their supervisor at a level that mandates continued validation. How can something as small as renting a party bus from I Love Miami Limos produce desired behaviors and results?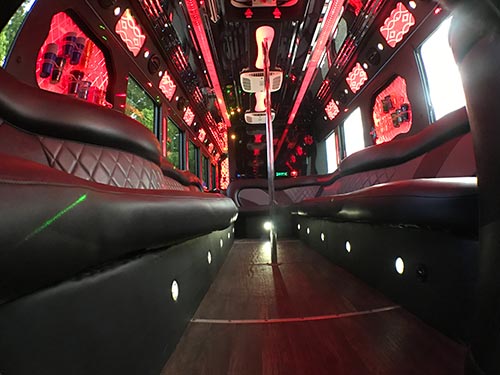 A very common practice when trying to honor subordinates is to provide a dining experience for them. It is essential to keep in mind what you're attempting to accomplish when planning an act of appreciation. Your employees need to feel pampered. You need to set your perks, both large and small above your competitions' perks to make employment for the company the choice of hard working talented candidates. The question becomes, what can be done to accomplish this? One factor to often overlooked, is to consider how much effort your subordinates must exert to take advantage of your efforts to provide validation. You offer a much different experience if you truly plan an excretion that exhaulsts your team from start to finish putting as much effort into your attempt to recognize the team's efforts, as your team puts into their performance maximizing revenues.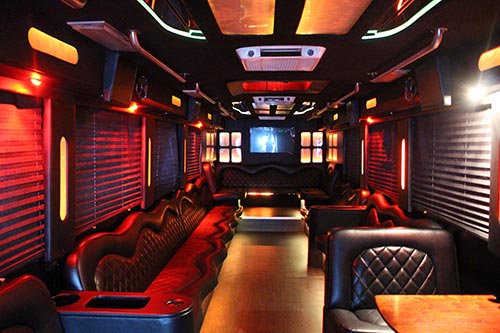 Treating your team to a night out should be a treat from the moment your team steps out of their home. The exception you have for your employees is for them to contribute from clock-in to clock-out. Show them what that means by having a beautiful, fun, exciting party bus from I Love Miami Limos provide front door service to your team members. You turned the effort usually mandated to participate in an appreciation evening of dining and possibly entertainment into a tribute of pampered exception. As the team is reassembled on the I Love Miami Limos party bus they share the experience of the visual and audio stimulation provided by the high-end top notch stereo system and the flat screens and led lighting that dances with your favorite genre of music. With the elevation of excitement and confront the team begins to relate to one another on a new level building the obligation they feel towards one another to perform at their best and providing support if a team member should need it in order to reach the performance goals set for the group instead of trying to exploit a team members weakness or mistake in a way to make oneself look superior. As you lead by example and show your team how to succeed together, every opportunity they have to relate to one another builds rapport amongst the team and builds a unspoken debt among the team that efforts among members will be matched. The party bus rental from I love Miami Limos provides a space that is conducive for everyone to be centralized and stops everyone from just spending time with the same coworkers they have already built relationships with. If your corporate culture allows for cocktails in a social situation renting a party bus from I Love Miami Limos is a responsible decision and could release the company of any liability should something tragic transpires.
Party Bus Rental Video
A mix of different backgrounds, personalities, cultural influences, and personal goals can make it difficult for you as leadership to unify your subordinates to agree on how to work on and reach a common corporate initiatives. Team building exercises have been used for decades as a tool to build teamwork and increase synergy among co-workers. All these exercises are a way for your team to find common ground and build rapport with one another. Renting a party bus from I Love Miami Limos is team building for future benefits and a way to acknowledge and reward top performers.
Renting a party bus for your hard working, revenue generating, employees is a great way to show your appreciation for their hard work and loyalty. In today's liquid market talent can easily find new opportunity. It is important to be an employer of choice using both tangable and intangable benefits. Creating a workforce that has fun and is happy to come to work.